Dear Diving Team,
I am back to the cold. Trying to get back to my routine but finding it very hard after leaving such a lovely little island. Anyway, I wanted to thank you guys for a wonderful diving experience. Thanks for the smiles and thumbs up even though I was not your best diver. I am still learning but am getting better and more confident after each vacation. Next year I am thinking about diving in Belize. I hear it is beautiful.
I would especially like to thank the dive masters: Oliver, Jasper and Hugo. They made it all feel like it was easy and fun.
Much love and hugs to all.
Nevin Berkmen
Yes, we did have a terrific time! I have put a review on TripAdvisor. We hope to see you guys again soon!
Wanda
Dear Tom,
Our thanks to you as well - we had a wonderful time diving with your folks. Jasper was a great dive leader, and Raul was a lot of fun to chat with on the boat. I think my wife is planning to write a very positive review for you guys on TripAdvisor.
Jeff Moersch
Hi Erik,
Heel erg bedankt voor de prettige duiken met jullie organisatie.
Ik had Oliver nog gezocht, maar helaas niet kunnen vinden, doe hem nogmaals de hartelijke groeten en bedank hem voor de aangename wijze waarop hij duiken leidt. Erg ontspannen.
Sjoerd
Thanks Tom, and happy to recommend you to all my dive friends! Mike
Everything was wonderful! Raul was attentive and professional. The reservations were easy to make and people were friendly. I love Curacao and I will be back!
Caribbean Sea Sports staff,
Congrats on a great scuba adventure and great service. We appreciated our time in Curacao and hope to come again soon. I will put a review on tripadvisor.com.
We had THE BEST time with you guys and added your 5th 5 star rating at Trip Advisor. We will definitely come back if we come back to Curacao.!!!
Thanks for a great time,
Brad
Was a pleasure to dive and snorkel with you, and we liked it better than the dive shop at the Hilton next door. Have said so on the Tripadvisor site.
Martin
Thanks, Tom! We had a great time, although work does get in the way of our diving! We've been diving in front of the Marriott for year and always a pleasure to see you guys down there. It's nice to have all your equipment in such great shape with the staff willing to help out with our shore diving! I did fill out the suggestion of the 'trip advisor' and added couple of photos of the dive shop & beach area . Thanks again & we hope to see you soon - this time with dive gear only & not a group of 'non-divers'.
Susan & Al Rosen - Palatine, IL
Firstly, let me thank you and your crew for a couple excellent days of diving. They were helpful, polite, and knowledgeable. I enjoyed my days spent with your staff and particularly, Sarah's guided tour of the Superior Producer! It was the highlight of my trip.
Thank you...I had a great shore dive, and took some nice pics...I will look forward to seeing you again in the future, and will be sure to recommend you to any and all visitors of your wonderful island!
Evan Scott Gross

We had an amazing time and Andy and Ollie were fantastic.
Thank you! We had a wonderful dive and we look forward to coming back again as soon as our schedules will allow. Attached is a photo of the Manta Ray that visited with us right there on your house reef!
Thanks again,
Fred & Bobbie Becker
Thanks for your follow-up note. We had a wonderful time in Curacao and enjoyed all the diving activities. My partner completed his four referral dives there with Oliver - a superb instructor - and I participated in part 2 of the Sunday morning boat dive.
Since you asked, here are a few minor suggestions. It would be helpful if your web site carried more specific information about scheduling and requirements. For example, we mistakenly assumed that the referral dives would take place in conjunction with the various boat dives, and that we would thus be able to spend some time together. Second, some sort of a statement about the dive refresher being "mandatory" after six months would permit a rusty diver to complete that requirement at home, leaving more opportunities for diving while on vacation. Finally, you might want to note explicitly that the deep dive, which is part 1 of the Sunday morning boat dive, is only available for Advanced Open Water divers. Perhaps I should already have know this. Even so, it wouldn't hurt to make that restriction clear in advance so that vacation dive time could be planned realistically. My original intention had been to make three boat dives while in Curacao.
Looking forward to our next visit! Thanks again,
Cynthia Walsh and Jim McLendon
Thanks very much, I had a great time. I'll certainly return soon. I've already recommended you to some friends.
Thanks again,
Peter Hupp
Tom you have a great crew working for you. Everyone was very helpful, from Troy meeting me at the cruise ship to Judeska emailing me all the info I needed and especially Kaya, who helped me out at every step on my dive. It felt great to get my broken down old body back into the water and you guys were a huge help. You will be my first call (or email) on our next trip back to Curacao.
I will be in Aruba in November for 4 or 5 days for a wedding, but will probably not have a chance to make the trip over to Curacao. Any dive shop there you would be able to suggest.
Thanks again for everything.
Mike Loch
I had a great time diving with CARIBBEAN SEA SPORTS everything and everyone was wonderful. Cannot wait to return and have already recommended you to other divers.
David

Dear Tom and the CSS crew,
Me and my wife have visited you twice in the past two years and we still talk about it everyday. Wanted to let you know that I love the newsletter you send me. It really makes me miss being there. We are planning another trip for January 2009 to Curacao. Hope to see you soon.
Zach & Tammy

Everything was great. Special thanks to Raul and Jan, the guys we spent the most time with. We also enjoyed the short time we spent with Eric, Mark and JJ. Office staff was extremely helpful and nice to deal with. We especially liked the focus on safety, both the equipment on the boat and safety tips underwater. We also were impressed when Jan would not hesitate to provide criticisms to divers who were unsafe.
Thanks to all,
Larry

Thanks, we had a great time in Curacao and your dive operation is one of the best I have ever used. All of the staff was helpful and nice but I have to especially praise Raoul, Jan and Bridget (probably spelled all of those names incorrectly). Hopefully we will be able to return to your island in the future to dive with you again.
Larry

What a difference a good dive shop makes on your entire diving experience! We want to thank you for being such great hosts while were visiting Curacao. Our divemaster, Jan, and our two skippers, JJ and Raul, were some of the best that we've met in our travels. They all kept it fun, but at the same time made us feel safe, secure and always comfortable. We are now on Bonaire at one of the "poshest" dive shops on the island and it's just nowhere near the same quality experience! Thanks again and we hope to see you again on a future trip.
Julie & John

I was so surprised - and thrilled! - to receive this message from you and the team. Please let me tell you that in my 18 years of diving, this was truly one of the most memorable and without question, your staff was one of the best I have ever experienced. I really mean that. Michelle at Cas Abao and Jan and Raul, as well as the others whose names escape me, were top-notch, clearly with customer satisfaction - and safety - as a priority. A really remarkable operation you have! I have no suggestions for improvement - it was perfect!

I am seriously lobbying my extended family to consider a vacation there in the near future. I was there on business but want to come back for a full vacation! If you have any information on packages, that would be helpful, as I'm specifically looking into inclusive packages through the hotel.

thank you and thanks for following up - it shows you're really committed and truly care! It was fabulous...

Best,
Kathleen
Hello Tom,
It is now almost 12 years ago that you learned me how to deal with my fear of Scuba-diving. Since than, at least, we come once every year to your magnificent site. You as well as your staff makes our stay on Curacao to something very special. Once again thank you all for the effort you put in to make Scuba-diving something special for us! See you definitely next year!
Chiel
Tom!
Give my regards to Jan and Jo for making my dive on Sat morning a nice one. I also had fun studying / passing the Nitrox course. I wonder what I should study / do next in PADI?

Thanks,
Fred
You have a wonderfull operation and fantastic crew. It was my 5th year at this site and I loved it once more. I sincerly hope to be back next year.
Please extend my thanks to your staff (all of them). Thanks again for letting the boat go out only for me last week, I don't remember the day. I had two absolutely great dives with Kimberly. It was the first I could really use the benefit of extended time on Nitrox. I don't want to shadow the other dives with that comment though. All was great.

Jean-Yves
Hi Sanne,
We all had a wonderful time there as always. It was great seeing everyone we knew, and meeting new friends!! Thanks again to all for making a great holiday for us.

Keith & Lauren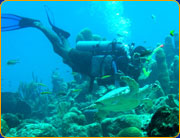 We had a great time in Curacao and really enjoyed the dives. You have a great staff.

Ferris & Shea
The staff at Carribean SeaSports was AMAZING! They were very professional and SAFE! In fact, the owner, Tom, stressed that from the second we met him. A very laid back man.. who was always working on something at his desk... (I'm sure returning email.. because he was QUICK and Efficient in returning mine when we planned the trip). Everyone from the interns.. to the instructors and dive shop ladies ... were the most welcoming group!! No matter how busy they were, you always felt like #1 with them.
They had plenty of help.. so you rarely waited for anything whether you were buying something (in a well equipped shop) or were inquiring about the next dive. Everyone was well informed and FRIENDLY!!! They treated you like you've been there for years. Their knowledge of the boats and the area were wonderful. What was also nice was their organization of the dives. The briefings were thorough. They could manage a dive of beginners and advanced divers while attending to the completely different needs of each.

Sandy & Terry
Review also available on TripAdvisor
Please permit me to thank you and your staff once again for your assistance and friendliness. And again, my thanks to you for the snorkel you give my son Forrest; please thank Oliver as well for this very kind gesture. We appreciated all of the dive guides. We found Natasha to be particularly outstanding.
If and as our friends travel to Curacao for diving, you can be sure that we will urge them to dive with you.

Robert & family
On our recent trip to Curacao, we did two dives with your company. Although I had been certified for some time, these were my first "real" dive experiences. Your crew made me feel completely at ease and they were both remarkable experiences. The people we dealt with were Oliver, Raoul, Anna and Samara (?) They were all calm, patient, friendly and very helpful. I would most definitely recommend your dive company to anyone visiting the island. Thank you again,

Susan, Scotia, New York
My family enjoyed the visit and diving very much. You have a good crew there. Especially, Raul, Brigit and Freddy. Looking forward to a return visit

Bill
We stayed at the Marriott last week, and did several dives with your operation - had a great time.

Jim
I appreciate the friendliness of your staff. I don't see where you can improve on anything. Everyone was very nice and helpful. The only disappointment was that I didn't get to do the "Tuesday" dive as planned due to your big boat not working.
However, the two dives we did do were excellent. I am glad I had the opportunity to take the refresher course and dive during my visit. I didn't realize how much I missed it. Since I live in Florida, I will take advantage of the re-found fun and hope to advance my diving skills.
Thanks for a pleasant experience after a gap of 16 years since last diving. Henry was an excellent instructor and his patience helped me get over my fears after such a long time.

Sheryl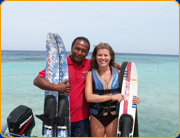 Freddie:
Thanks, again for the good water skiing memories. Here is the picture you requested. Take good care of yourself.
Joe
We had a great time this visit. Thanks for your hospitality! While there is a great big ocean out there to check out, we are sure to be back. Ya'll are the greatest.

Sarah
we had such a good time diving with your group. You all are safe, but not so that you don't let divers enjoy themselves. Your crew is delightful!! Thanks!

Chuck & Tony Macaroni
It was a pleasure to meet you when we were in Curacao. We had a great time with your team - Sadie and Oliver were terrific. Freddy and JJ gave our boys all they could handle tubing and kneeboarding. I have to say that Sadie's insistence on safety was very reassuring without dampening our enthusiasm - if fact it raised it as I knew we were in good hands. You can be sure that we would only dive with you when we come to Curacao again.

Bob
We just wanted to say thanks to you and your great group of folks. Because of your team, our first dive experience was outstanding. We learned a lot and are now much more confident in our skills and we had a lot of fun in the process. In fact, we have enrolled in an Advanced Open Water Course in June and we are looking at a fall trip to either Grand Cayman, Roatan or back to Curacao with a side trip to Bonaire. I'll keep you posted.

Chuck & Lisa Sipe
Hi Tom, we had a great time diving with your crew! My compliments to you for having a professional and well-run organization. We really enjoyed the diving staff, who were without exception friendly and helpful, and very professional in their approach to running the boats and the dives. Thanks for a wonderful vacation!

Linda Ruekert
Hi to you and all of your staff at Caribbean Sea Sports,
You all have it down just right! Safety is utmost in the crew's mind and a light no pressure attitude made for an extremely good time. Thank you!!
I loved the slow descents and equally gradual rises while diving. The dives were fabulous...the great variety of fish, corals and anemones along with an underlating terrain were highlights for me. Thanks very much to Birdie's sharp eyes we saw things that we may not have noticed. Of course, to see dolphins coursing thru the water and pausing for a look at us while we were viewing the Superior Producer was the absolute pinnacle that is etched in my mind's eye. The sea turtle was a character to watch. The crew's humor still brings me chuckles.
I really can't express how grateful I am. I just had such a good time:)
Most sincerely and hoping I can return,

Rhonda
Tom,
thanks for the email. Unfortunately we are back to the real word.
Kitty and I both had a wonderful time. Please tell everyone at Caribbean Sea Sports that they all made us feel very welcome. It show's that you have a great thing going when you have complete strangers that come in and feel at home with the crew. Again, I cannot give enough praise to the entire team at Caribbean Sea Sports. I look forward to coming back.

Brad Dunlap