Superior Producer (back to divesites)
/ (back to dive/snorkel schedule)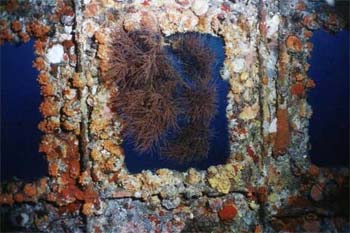 Level: advanced
Depth: 80 to 110 feet
Type of dive: boat

Reef description:
The unfortunate ship Superior Producer drove out of the harbor in September 1977, for it to never return back and stayed on Curacao. She rests upright in 100 feet of water and became a very healthy coral reef. The dive begins with a direct descent to 80 feet, where we start the tour. Big barracuda's and big French angels, have their habitat on the wreck.
Swimming along the backside of the steering hut you'll see that the ladders are overgrown with cup coral, protected by white grunts and schoolmasters. The cargo space is open and easy to dive through. Lots to discover, but so little time, so ask about our discover nitrox dive, and stretch your dive time to explore the wreck even better.