Saba (back to divesites) / (back to dive/snorkel schedule)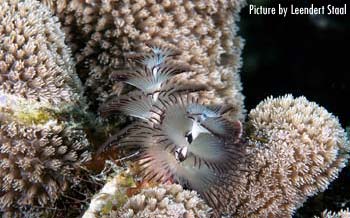 Level:
novice to advanced
Recommended depth: 60 to 80 feet / 18 to 24 meters
Mooring depth: 15 feet
Type of dive: Boat

Reef description:
No, we are not driving all the way to another Island, but we moor the boat over the little wreck, called Saba. This little tugboat became a coral reef over the years and is an excellent way to spend you safety stop. Before visiting the wreck, you will first find yourself swimming along the 45" angle reef. Overgrown with lots of soft corals. To be found here are common sea fans and larger formation of pillar coral. Spotted moray eels and chained moray eels will grin at you. Turtles are seen here, same as spotted eagle rays.
Occasionally even manta rays are spotted.