Courses
Caribbean Sea Sports is fully licenced to give PADI, CMAS, IDD, PDIC, SSD and NAUI courses. To become a certified diver at our school you do not have to be a guest at the Marriott Resort. Because of our multi-langual instructors and video supported courses we attract also local people, congres-visitors and guests from other resorts on the island.
Our lagoon which meets, and even beats, all conditions found in a swimming pool and our 'house' reef are unique for taking your first lessons.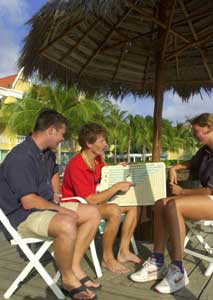 If you want to experience the beautifull underwaterworld but do not have time to become a certified diver you can take our PADI resort dive. During this introduction, which takes 2½ hour, you will be explained about diving basics. Through video and personal attention topics as weightlessnes, under water breathing and how to compensate the waterpressure are explained.
After the theory we teach you the practical basics of diving in our lagoon (this can also be done in the Marriott Resort swimming pool). After we are sure you are fully comfortable with the diving basics we will take you out on a real reef-dive.
To become a certified diver you can take the PADI open water course. This course which takes only 4 half days involves all the theory and practicall skills needed to make you an independent diver with a worldwide accepted license. The theory is being thought through video and personal lessons supported with a book and finalises by taking an exam. Each day you have practical lessons in our lagoon and will be taken out on our 'house' reef. Your 5th dive is a boat dive. With our experienced and enthousiastic instructors and excellent sea conditions you can rely on a high quality course. The main objective is to learn you how to become a safe diver. It's the most tranquil way to spend your holiday in Curaçao.
If you already are a certified diver but like to learn more about diving and it's environment you can take the PADI advanced open water course. This course does not involve any exams but requires 5 theme-dives and theory. 2 Themes are obligatory, these are called; core-dives (Deep diver and underwater navigator). You can choose your other 3 by your own preference. Some of the theme-dives are:
Search & Recovery diver--Wreck diver--Drift diver--Night diver--Peak perfomance buoyancy--underwater naturalist--underwater photographer.
We have the famous 'Superior Producer' wreck at just 5 minutes from our school. At night our 'house' reef is full of lobster, moray eels and octopus. Explore these magnificent sites and get your 'advanced'.
As with the open water course the main objective is how to become a safe diver and the advanced open water course focusses on your surroundings, the PADI rescue diver course learns you about safety for other divers. During 5 sessions you will learn all necessitys and aspects forto prevent underwater accidents. This course includes also a medical first aid license. It is a very good way to build on your divng skills and self confidence.
Located at J.F.K. Boulevard
Curaçao Netherlands Antilles
P.O. Box 6269
Tel: (599-9) 462 2620
Fax: (599-9) 462 6933
E-mail:

[email protected]